SPRING WORKSHOPS
The Rochester Knitting Guild Welcomes
Donna Druchunas
for 4 days of workshops.  April 5-8 2019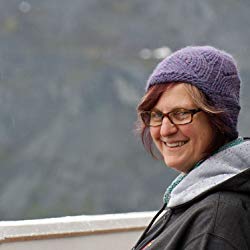 Donna escaped a corporate cubicle to honor her passions for knitting, world travel,
research and writing. She is the author of six knitting books including Lithuanian Knitting:
Continuing Traditions, Arctic Lace and Successful Lace Knitting. Her book series, Stories in Stitches, features historical patterns and essays. Donna lives in Vermont with her husband, mother and three cats who all help her test the usability and comfort of her finished knitted items. She teaches in the US, Canada and Europe and holds retreats at her private studio.
You can explore Donna's knitting patterns and style by visiting her Ravelry Page
or by joining her FaceBook Page
A wide variety of classes will be offered at many different skill levels.  They will include Stories in Stitches, Grandma's Knitting, Bosnian Toe-Up Socks, Lithuanian Colorwork Mittens, Lithuanian Beaded Wrist Warmers, Successful Lace Knitting & Explore Japanese Knitting.
For full descriptions of each class, the date and time they are offered and the skill level required, please click on CLASS DESCRIPTIONS
Registration for 2018-2019 members will begin at the October 8th Guild meeting​, following this procedure:
● Select your classes and submit payment​.
● Member registration will continue until the November 5th meeting; after that
date, non-members may register if space is available.
● If not registering in person, please send registration with payment by mail to
Cheri Switzer at the address on the form after October 8.
No phone or e-mail registrations accepted.