Join us on our Ravelry Group Page,  Facebook Fanpage and Instagram by clicking on the pictures below to share projects, ask questions and connect with Guild members all year long!

Ravelry is hub for all things yarn!  There you will find thousands of patterns, groups to find help with specific projects and techniques as well as a thriving global community of fiber enthusiasts.  You can create your own personal profile where you can easily keep track of the yarn in your stash, your projects and even keep record of patterns you might like to use some day.  The Rochester Knitting Guild has a Ravelry Group where you can stay connected with us!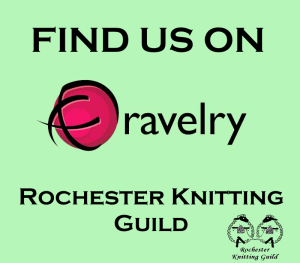 We have a NEW Facebook page.
Our new Facebook Fanpage has information about meetings, events, projects, changes in schedules and much more.  Share your projects, ask questions and be a part of our community!

On our Instagram page, you'll find pictures of Show & Tell from our Guild meetings, knitted projects from our members as well as information about the Guild.  If you are already a member of Instagram, be sure to tag us in your knitting or Guild related posts with #rochesterknittingguild