WELCOME TO THE
ROCHESTER KNITTING GUILD

The Rochester Knitting Guild is an organization in Rochester, NY that exists to promote learning about knitting, provide a social context for knitting, and encourage the public to learn to knit!
We have a NEW Facebook Page. Check it out here. Bookmark it! Like us!
RKG's 11th Annual Spring Knitting Retreat at Camp Stella Maris, March 3-5, 2023 is approaching quickly!
Click here to learn more and download registration form.
Exciting News for the April 2023 Meeting!
The Rochester Knitting Guild is delighted to welcome Alasdair Post-Quinn to our April 3, 2023 Guild Zoom meeting at 7 pm.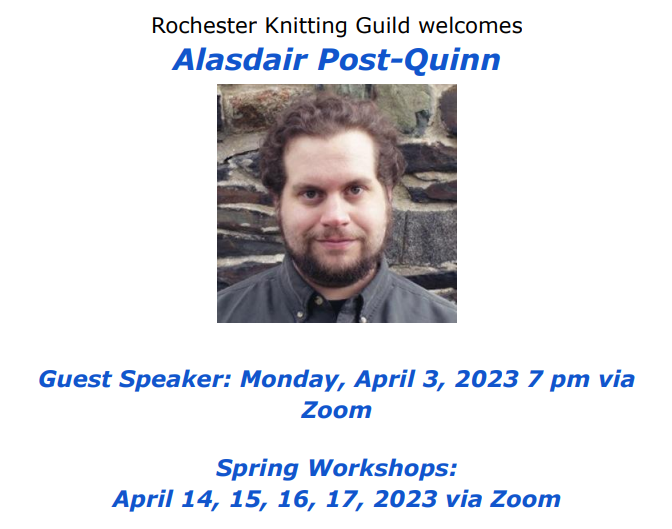 Click here for more information and to register for the workshops.
Please note: A zoom link will be sent to all current dues-paid Guild members the week before the April 3 Zoom presentation.
When you register for the specific workshops you will also receive additional Zoom links for the workshops.
Zoom links will be sent to your email address. Make sure you check ALL the inboxes in your email account including "promotions", "updates", "social" or even the "spam" folder.
---
2022-2023 Dates
As we welcome in a new year of the Rochester Knitting Guild, we also welcome in a new group of Board Members! Meet them here!
COVID-19 UPDATE: Temple B'rith Kodesh has dropped all Covid migitgation requirements. Please know if you still wish to wear a mask to in person events, there will be no judgement but it, and vaccines, are no longer a requirement. 
The following dates have been finalized for the 2022-2023 term:
---
In person meetings are held at:
Temple B'rith Kodesh in the Social Hall, 2131 Elmwood Avenue, Rochester, NY 14618
We gather at 6:30 pm for socializing. Formal meeting starts at 7 pm.
September 19th (The THIRD Monday of the month) at Temple B'rith Kodesh Welcome Back and 35 Year Anniversary Cake Celebration
October 3rd (The FIRST Monday of the month) on Zoom Carson Demers Author of Knitting Comfortably: The Ergonomics of Handknitting
November 14th at Temple B'rith Kodesh RKG Shop Night!!
December 12th at Temple B'rith Kodesh Presentation by Sue Sayre
January – 9th on Zoom Canadian Designer Sarah Schira
February – 13th at Temple B'rith Kodesh Mini Workshops
March – 13th at Temple B'rith Kodesh, Book Sale/Silent Book Auction & presentation on Care & Feeding of Your Stash
April – 3rd on Zoom, guest speaker and workshop instructor Alasdair Post-Quinn, "A History in Two Layers: Double-knitting from 1800 to the present.
May – 8th at Temple B'rith Kodesh Yarn Auction
We have a NEW Facebook page!
Bookmark and visit us on our new Facebook Fan Page!
It's a great way to keep in touch and up to date on all the Guild Happenings!