WELCOME TO THE
ROCHESTER KNITTING GUILD

The Rochester Knitting Guild is an organization in Rochester, NY that exists to promote learning about knitting, provide a social context for knitting, and encourage the public to learn to knit!

The next Guild meeting will be held at
6:30pm on March 13, 2017 at
Temple B'rith Kodesh
  As the storm is not expected to begin until after 8pm, our meeting will be held as planned.  If that changes, information will be posted here as well as on the Facebook Fanpage
If you are not a member, and would like to join, please visit the Membership page for information
Don't forget about our Facebook Fan Page!  It's a great way to keep in touch and up to date on all the Guild Happenings
SPECIAL EVENTS



Spring Workshops
    Rochester Knitting Guild Welcomes
Lucy Neatby
March 31, April 1, 2, & 3 2017

For Class information and Registration,
please visit Special Events


RKG Yarn Auction 2017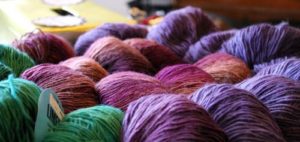 Donations are now being accepted for the 2017 yarn auction!
Donations of clean, usable yarn may be dropped off by the community knitting table during regular meetings.
If you have a large quantity to donate or questions, please contact Natalie Klein at a guild meeting or via e-mail at auction@rochesterknitting.org